The N8 CIR RSE Meet Up took place at The Studio in Leeds on Tuesday 9 July 2019. Over the course of the day we heard from Kirsty Pringle about the goals of the project, Simon Hood about his experiments with moving production services to the cloud at the University of Manchester, James Hetherington about ensuring the contribution of RSEs is properly recognised and rewarded within academia and Mike Croucher asking the worrying question 'Why do so few people care about HPC?'
Speaker Videos
N8 CIR Introduction - Kirsty Pringle
Paddling in the Cloud - Simon Hood
Down and Out in the Magic Kingdom - James Hetherington
HPC - Why do so Few People Care? - Mike Croucher
View and Download the Slides
N8 CIR Introduction - Kirsty Pringle
Download Kirsty's slides here: https://n8cir.org.uk/documents/29/N8_CIR_MeetUp_Opening.pdf
Paddling in the Cloud - Simon Hood
View Simon's slides online at: manchester.ac.uk/~simonh/talks/2019-07-09-N8CIR-RSE-Meet-Up/index.slideshow.html
Down and Out in the Magic Kingdom - James Hetherington
Download James's slides here: https://n8cir.org.uk/documents/30/Citation_presentation.pdf
HPC - Why Do So Few People Care? - Mike Croucher
View Mike's slides online at: https://mikecroucher.github.io/HPC_for_everyone/
Air Quality Walks Kirsty Pringle, RSE Theme Lead
In the first of the afternoon sessions conference attendees helped to test prototype Air Quality Sensors by going on short walks around the conference venue.
Unfortunately there were issues with port naming on the Raspberry Pis so data wasn't collected from every walk; the data that was collected is shown on the map below. It's worth stating that the level of air pollution varies day-to-day depending on the meteorology, so a single day is just a snapshot and not representative of the long term picture.
The World Health Organisation estimates that particulate matter concentrations of greater than 10 ug m-3 is potentially harmful to health, so that's anything yellow and orange on the map. Black means it's off the scale, this only seems to occur when a bus or lorry goes past and the monitor picks up the exhaust plume; it can also be caused by someone smoking a cigarette.
Once these sensors are tested they will be rolled out for everyday use, to get a more representative sample. Many thanks for your help with this work.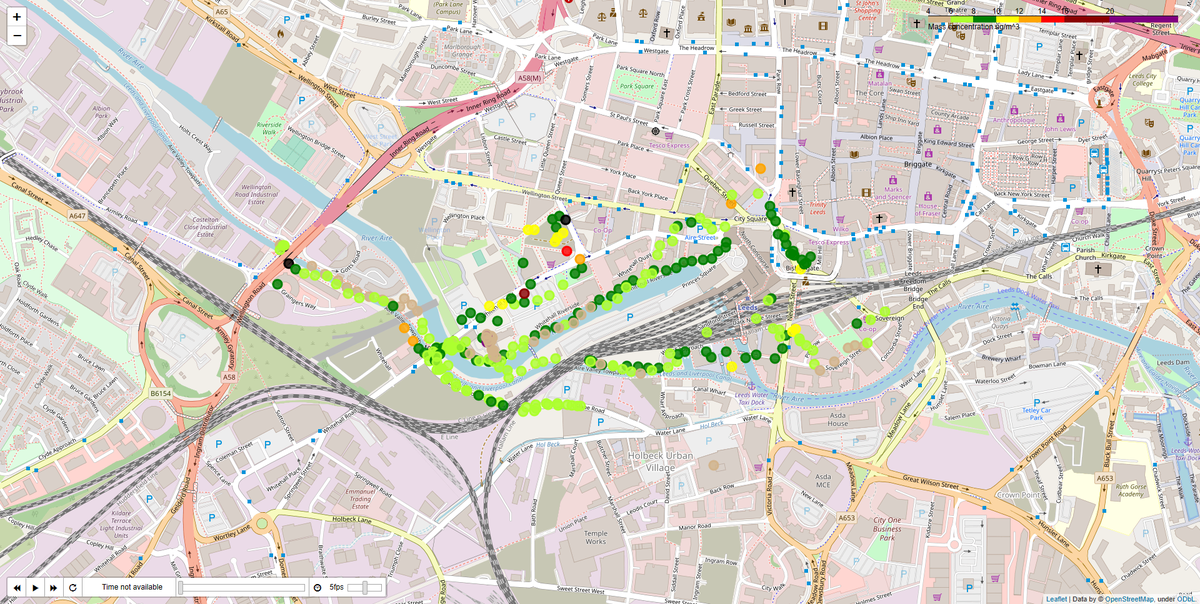 Air Quality Walk Information
Lightning Talks
The afternoon featured six lightning talks from RSEs across the N8 Research Partnership. If they used slides these are available on the link below. The talks served to highlight the incredible mix of skills that exist across N8 CIR and showed areas where closer cooperation and collaboration may be possible.
Helen Burns - Predicting and Visualizing Volcanic Emissions in Nicaragua
Martin Callaghan - Masters' Level Apprenticeships – Professional Learning and Development for New RSEs
Ian Cottam – RSE Skills Graph
Kate Court – 3 Months as a Software Engineer
Adrian Harwood – Mobile App Development
Jannetta Steyn – Coding for Research The slides for these talks have been combined in to a single PDF, which you can download from the link below. RSE Meet Up - Lightning Talks Slides