What is Library Carpentry?
Library Carpentry is a software skills training programme aimed at the needs and requirements of library and information-related professionals, including Post Graduate Research (PGR) students and Researchers. It provides a welcoming and safe learning environment to deliver digital skills training to information-related communities who don't have previous experience in programming. It goes beyond the familiar Office suites to cover coding and data manipulation. Data, exercises and use cases for these lessons are drawn from information-related practice.
The goal is to empower information-related communities to make their working practices more efficient, and to encourage them to become advocates to their colleagues or anyone who they work closely with.
Why should Library Carpentry be embraced?
Information-related professionals can become more efficient in their work by automating boring and repetitive tasks. This would also reduce the chance of human error, and free up their time, so that they can focus on improving their services to end users.
Furthermore, the data sets they create would be more sustainable and reusable, leading to more efficient analysis.
There are many benefits to becoming confident and competent with software languages and techniques, including better communication with IT colleagues and researchers.
The longer-term benefits are potentially transformative - if we do not act to equip our information-related professionals with competence in digital skills, we will not be in a position to support the dramatically changing landscape and provide cutting-edge services such as digital scholarship.
What is a Library Carpentry Workshop?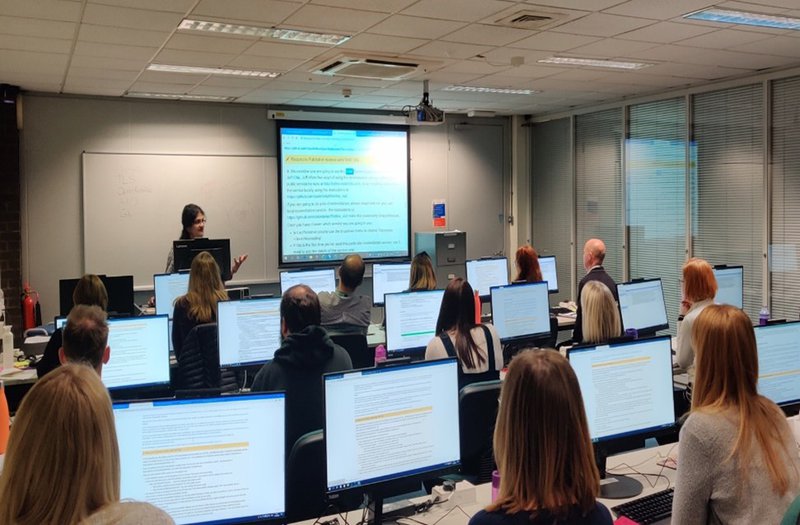 Library Carpentry at Durham, 2019 - Overall comments from the Participants: "Eye opening! Amazing. This will be really useful for anyone using spreadsheets."
This is a hands-on workshop; the session has been designed in such a way to allow participants to practice skills as they learn. The workshop is delivered by trained instructors, and lessons are also made available online for self-directed study. Instructors and helpers are available to provide you with assistance when needed. We believe that this approach will overall help boost individuals' confidence in using digital skills.
Who is this Lancaster workshop aimed at?
This workshop is for librarians, professional services staff, PGRs and researchers who regularly work with spreadsheet data formats. If you work with large data sets, come along to learn new skills which will allow you to save time and reduce errors. Everyone is welcome, and no prior knowledge is necessary!
What will be covered at this Lancaster workshop?
In this lesson, you will learn about good practices for the use of spreadsheets for organising data; this includes how to format data in spreadsheets, how to handle dates, and how to keep data entry clean.
OpenRefine is an application for data clean-up and transformation to other formats, an activity commonly known as 'data wrangling'. It is similar to spreadsheet applications, and can handle spreadsheet file formats, but it behaves more like a database. You will learn about how OpenRefine can simplify your work with messy spreadsheet data: cleaning it; transforming it from one format to another; and extending using web services and external data.